National Carry A Tune Week

October 3 - 9, 2010
This is a free web event sponsored each year
by The Tune Lovers Society
For more information, go to the main page for
---
Tune Categories
Patriotic Music = 2
Folk Music = 4
Religious Music = 4
Popular Music = 10
Classical Music = 1
Film Music (Songs and Themes) = 9
Total for 2010 = 30 tunes
---
Total

for

National Carry A Tune Week,

2001 to 2009 = 304 tunes
---

2010 Survey
Thanks to those who participated in this year's survey.
The winners of a Free CD for the best tune comments are:
Craig from California
Jim from Massachusetts
Each will receive a Free CD with a selection of tunes listed below.
---

National Carry A Tune Week 2010

Many of the tunes have comments by the Tune Week participants
and also links to other pages.

Some also have YouTube video clips.
Just click on the links for each tune>
+ = included on the 2010 Tune Week CD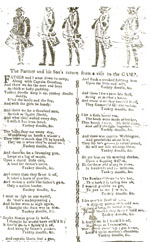 "Father and I Went Down To Camp" (1776) +
Comments: This early patriotic song from the American Revolution was sung to the popular tune of "Yankee Doodle" and unlike other versions that remain anonymous, the words to this song have been credited to Edward Bangs, a Harvard college student at that time. -- Roger

"You're a Grand Old Flag" (1906) (words & music by George M. Cohan) +
-- Gail

YouTube (sung by James Cagney)

"Goodnight, Irene" (words & music by Huddie Ledbetter and Alan Lomax) +
Comments: This sad song was first recorded by Huddie Ledbetter (popularly known as Leadbelly). But the version I remember best was arranged for strings by Gordon Jenkins and featured the wonderful folk group known as The Weavers (Ronnie Gilbert, Lee Hayes, Fred Hellerman, and Pete Seeger). Their version was a multi-million seller in 1950 and it brings back fond memories of listening to it on my dad's car radio while taking a leisurely drive usually on a Sunday afternoon. -- Roger

YouTube (sung by the Weavers)

"Going Down the Valley" - Music by J.H. Fillmore, words by Jessie H. Brown.
Comments: This stirring song about death, published in a Mennonite hymn book
in 1890, was rediscovered by folklorists in the 1960. It is wonderful for
group singing. The opening lines are:
"We are going down the valley, one by one;
With our faces toward the setting of the sun."
-- Jim

YouTube


"Hobo's Lullaby" by Woody Guthrie+
Comments: Both soothing and sad, this frequently recorded song is a favorite of folk music performers and their audiences. I remember it as the final song of a 1970s National Folk Festival at Wolf Trap Farm Park. Half the performers on the crowded stage were in tears. -- Jim

YouTube (sung by Woody Guthrie)



"When Love was Young" by Iris DeMent
Comments: This song always makes me feel sad. -- Gail

"Come, Join in One Accord" (1980)+
Comments: I wrote this choir anthem and congregational hymn to celebrate the 75th anniversary of Immanuel Lutheran Church in Attleboro, Massachusetts. It was first performed by student instrumentalists and the choir. The music was well received. -- Roger

"Deep River" - American Negro Spiritual+
Comments: There are countless arrangements and recordings of this beautiful tune. Recently I heard a quartet of elderly African-American men really do the song justice. -- Jim

YouTube (sung by Paul Robeson)

"Down in the Valley to Pray" - Traditional Appalachian, adapted by Doc Watson.
Comments: Most people know an updated version called "Down to the River to Pray" from the Coen Brothers movie, O BROTHER, WHERE ART THOU? By 1973 Doc Watson's arrangement of the old white gospel song was a popular recording. -- Jim

YouTube (sung by Alison Krauss)




"What Wondrous Love Is This?" (Traditional American folk hymn from the
Southern Harmony collection,1835)+
Comments: This is a great tune for singing, even without the words of this title. It is popular with 'Sacred Harp' singing groups that still use the old shape-note method, which amounts to singing harmony with a few short syllables instead of words. However, the hymn's text is quite good and this tune continues to be printed in many Protestant hymnals. -- Jim

YouTube

"Addicted to Love" - Robert Palmer
Comments: I've always liked the variety of "medical" rock, from the Rolling Stones "Sister Morphine" to this entertaining tune from Palmer which is, of course, an extension of "Bad Case of Loving You"...sorta. Guess I've always enjoyed Palmer because he was different with a suit and tie and a restrained manner while surrounded with rock and roll chaos, in particular his phalanx of alike-looking models in "Simply Irresistible" whose mechanized movements seemed to be a wry comment on the state of rock at that time. But through it all until his untimely death in 2003 of a heart attack Palmer surprised, entertained and enlightened and did it with a subtle smirk at convention that's always appealed to me. -- Craig

YouTube

"Bad Case of Loving You (Doctor, Doctor)" - Robert Palmer
Comments: Perhaps the smoothest, most experimental, shyest and enigmatic of all rock performers in the 70s, 80s and 90s many of Palmer's songs became icons of rock while others sank without a trace. His velvet voice, excellent choice of talented musicians, innovation - tin kettles on "Pride" a la Goldsmith's "Planet of the Apes" score - and clever lyrics add up to great rockin' and a memory trip back to the disco era when Palmer wasn't, thank God, doing disco. -- Craig

YouTube

"End of the Line" - The Traveling Wilburys - first album 1988
Comments: Somehow back then I missed hearing any songs from this supergroup and thus discovered the Traveling Wilburys in 2007 in a local supermarket where "End of the Line" was being piped over the music system and I stopped in my tracks and said, "Gee...that sure sounds like George Harrison and Tom Petty...what the heck IS this song? And who's performing it?" And three years later I found out: The Traveling Wilburys, formed by Harrison with other rock greats Roy Orbison, Bob Dylan, Tom Petty and guitarist Jeff Lynne and session drummer Jim Keltner. I think what appeals to me about the Wilburys is the distinctive vocals of Harrison which brings back memories of the Beatles, Petty's equally distinctive style, Orbison's near-falsetto warblings - along with the fact that he died soon after completing the first album - Dylan's nasal semi-singing and Lynne's smooth guitar work and vocals. That so many superstars of rock both old and, well, not so old hit on every cylinder for this album is startling and terrifically enjoyable. And, in the case of "End of the Line" poignant, as the group was absent the deceased Orbison.-- Craig

YouTube

"Handle With Care" - The Traveling Wilburys
Comments: A reminder of what quality rock can be as compared to the mediocrity ruling most of the industry today. With echoes of Harrison's glory solo days with the Beatles nd on his own after the group disbanded; Orbison's perfect solos and Dylan and Petty's backup work is impeccable. Obviously, both of these Wilburys strike elegiac chords in this old rocker's memory banks and that's good. We all need some good rock and roll memories these days. --Craig

YouTube


"I'll Tell the Man in the Street" - Music by Richard Rodgers/ Lyrics by
Lorenz Hart (1938)
Comments: When young Barbra Streisand made this a hit in 1963
many of us didn't know the song was 25 years old. This one demonstrates the
emotional and musical range--as well as the durability--of Rodgers & Hart
tunes. I believe the song still is sung by senior citizen Tony Bennett. -- Jim



"It's Now Or Never" - Words & music adapted by Aaron Schroeder and Wally Gold (1960) -- Comments: Elvis Presley has said that this is his favorite record. It is also his biggest worldwide hit. The song is b ased on the popular Italian song, "O Sole Mio." It is a favorite of mine too and inspired me to write one of my first songs in 1961 titled, "Dream World." -- Roger

YouTube (sung by Elvis Presley)

"Let Our Love Never Fade" - Words and music by Mike and Heather Humrichhouse (1995)
Comments: My husband and I wrote and performed our own song at our wedding and it kept coming to me during this week. -- Heather

"My Dreams are Getting Better All the Time" - Music by Vic Mizzy/ Lyrics by
by Mann Curtis (1945)+
Comments: One of those light romantic songs of no great merit that
popped into my brain recently. It was introduced in an Abbott & Costello
movie (IN SOCIETY, 1944). Later a record by Les Brown's Orchestra with
Doris Day became popular. I only remember old recordings by male singers,
including Vaughn Monroe. -- Jim

YouTube (sung by Perry Como)




"Thanks For The Memory" - Music by Ralph Rainger/ Lyrics by Leo Robin, 1938) + Comments: This Oscar-winning song from THE BIG BROADCAST OF 1938 was sung in the movie by Shirley Ross and Bob Hope, and became Bob's theme song for the remainder of his show business career. It is a very poignant song, especially the complete version recorded by the two stars in the movie. I'd like to dedicate this song in memory of an actress who was in that 1938 movie, Grace Bradley Boyd, known later as "Mrs. Hopalong Cassidy," and who died this year at the amazing age of 97. -- Roger

YouTube (sung by Shirley Ross and Bob Hope)

"What'll I Do?"- Words and music by Irving Berlin (1924)+
Comments: I think Berlin's best writing may have been melancholy love songs, and here is a prime example. This song has held up very well for many decades. Among the popular singers who have recorded it are Pat Boone, Linda Ronstadt, Johnny Mathis, Judy Garland and Rosemary Clooney, It also has been sung or played in many movies, -- Jim

YouTube (from THE GREAT GATSBY soundtrack arranged by Nelson Riddle)
YouTube (sung by Linda Ronstadt, arranged by Nelson Riddle)


"A Christmas Carol" (1894) by Charles Ives +
Comments: Most people don't know this beautiful Christmas carol. -- Gail

YouTube (sung by Gerald Finley)
YouTube (sung by Chancel Choir, First Presbyterian Church, Salt Lake City Utah)
VI. Film Music (Songs and Themes)


"Alex on the Spot" from ESCAPE TO AFRICA (MADAGASCAR 2)
(music by Hans Zimmer)
Comments: The chosen song my six year old picked because she will always remember the people who made the movie and the way they made the lion dance. -- Heather

YouTube (from the soundtrack)

"Baby, It's Cold Outside" from NEPTUNE'S DAUGHTER (1949)+
(music & lyrics by Frank Loesser) -- sung by Ricardo Montalban and Esther Williams
Comments: This song sung by Al Hirt and Ann-Margaret is on one of my CDs. -- Gail

YouTube (from the movie soundtrack)

"The Green Leaves of Summer" from THE ALAMO (1960) +
(music: Dimitri Tiomkin/ lyrics: Paul Francis Webster)
Comments: This was a big hit song for The Brothers Four but I prefer the way it is incorporated into Dimitri Tiomkin's magnificent film score. His setting for chorus is very beautiful and the lyrics by the underrated Paul Francis Webster are very touching. Another favorite is the Dixieland jazz version by Kenny Ball & His Jazzmen which I bought on a 45 record when I was stationed in Germany in the early 1960s. It's a fun arrangement of this Tiomkin tune. -- Roger

YouTube (played by Kenny Ball & His Jazzmen)
"I'll Take You Home Again Kathleen" from THE QUIET MAN (1950) +
Comments: This Irish song was perfectly utilized by Victor Young in his warm and memorable score for the John Ford film and it's poignant poetry of both melody and verse permeates the film. I've always felt the world created by Ford for "The Quiet Man" is one in which I could live most comfortably, undoubtedly humming "Kathleen" every moment of the day. THE QUIET MAN is about as perfect as a movie can be and this melody plays a large role in achieving that perfection. -- Craig

YouTube (from the soundtrack)

"Barn Dance"/"Lonesome Polecat"/ "Spring, Spring, Spring" from SEVEN BRIDES FOR SEVEN BROTHERS (1954) (music by Gene DePaul/ lyrics by Johnny Mercer)
Comments: These are from my favorite movie musical. -- Gail

YouTube ("Spring, Spring, Spring" from the soundtrack) +
YouTube ("Lonesome Polecat" from the soundtrack) +
YouTube ("Barn Dance" performed by John Wilson Orchestra, UK, 2009)

"The Song of RAINTREE COUNTY" (1957)(music: Johnny Green/ lyrics: Paul Francis Webster) - sung by Nat "King" Cole +
Comments: Johnny Green's score for this film is impeccable and perhaps better than the movie deserves and while I saw it in the theater on its original release in 1957 but I didn't recall the theme song. Then the score was released by FSM a few years ago and Cole's wonderful rendition of the song made we wonder why I hadn't recalled it. Gorgeous melody, superb lyrics and as rendered by Cole, memorable. Perhaps knowing that Clift had almost died in a car wreck during the filming and he would never be the same or maybe it was the ambience of the 50s or the overall impact of Green's score...whatever it was, this song stays with me. -- Craig

YouTube (sung by Nat King Cole)

SPARTACUS (Love Theme) (music by Alex North, 1960) +
Comments: One of the most beautiful love themes from any film, North uses it in varying ways during the film. I believe the most glorious version is the one played at the end of this epic film. It always give me goose bumps when I hear this lush theme. There is a huge expensive box set recently released by Varese Sarabande with a whole CD devoted to arrangements of this beautiful love theme. I was fortunate to get an autograph by Alex North of the opening of this theme and included it as an illustration in my book, A Guide to Film Music - Songs and Scores. --Roger

YouTube (from the soundtrack)
---

Ninth Annual Carry A Tune Week (2009)
---

Eighth Annual Carry A Tune Week (2008)
---

Seventh Annual Carry A Tune Week (2007)
---
Sixth Annual Carry A Tune Week (2006)

---

Fifth Annual Carry A Tune Week (2005)

---

Carry A Tune Week Surveys (2001-2004)

---

---

Tune Lists and CDs:

100 Essential Songs (1861-1961)

50 Essential Songs (1759 - 1859)

Centennial Tributes:

Leroy Anderson (classical-crossover composer)

Gene Autry (western singer-songwriter)

Eddie Dean (western singer-songrwriter)

Miklos Rozsa (film composer)

James (Jimmy) Stewart (actor, singer)

---

Help support this annual tune week survey.

Click on these links to order your music:


American Music Recordings Collection

---

If you wish to be on the mailing list for the annual Tune Week, send your name and email address to:

---

Help support the mission of

The Tune Lovers Society

Order your purchases from this Search Box...

---