The American Tune Lovers Society
Seeking to preserve American tunes from the past
The American Tune Lovers Society (ATLS) is an online group designed to help preserve and protect American tunes from the past through research information, recordings and other information.

Many tunes from the past are worth remembering and performing.

Since American music from the 1960s onward is generally known to many listeners, the focus of this online group is for the years from 1759 to 1959.

See the list of tunes at the Essential American Recordings Survey.

---

Please help support the mission of The American Tune Lovers Society.

Order your books, CDs or DVDs from the

---
What are your favorite American tunes?
They might be...

Big Band music
Jazz music
Country & Western songs
Oldies songs
Gospel music
Easy Listening songs

Or maybe you would prefer...

Choral music
Classical themes
Film soundtrack themes
Songs from theater

Now you can join this web group and make comments or ask questions about your favorite music.

Also, you may volunteer to be part of the ATLS executive board
to help raise funds for a book on American tunes from the past.

Why not join this society now?

Sign Up Now!


To join The American Tune Lovers Society,
just donate $25 for a one year membership
effective from the date of notification online.

For your donation of $50 and two year membership
you will also receive a complimentary CD
"A Century of American Song,"
including Free Worldwide Shipping.


Your credit card will be payable to PineTree Productions,
through safe and secure PayPal.

Click on this button to:

After you have sent in your donation,
please send your name and mailing address and
your tune interest to:

Tune Lovers Society Membership

When you become a member, you can have your concerts or announcements listed on this website. Also, you can send in brief comments about preserving your favorite tunes from the past.


Let's help support America's rich tune heritage and keep it alive!

Sign up now!

Yours tunefully,Roger Lee Hall
Director, The American Tune Lovers Society (ATLS)

Note: ATLS is an affialiated group with the
Society for Earlier American Music (SEAM)


Here are two CDs with tunes from the past:


AMERICA SONG HISTORY (ASH)
Compiled by Roger Hall


ASH CD, Volume 1:
From Pre-Revolution to Abolition, 1759-1859



ASH CD, Volume 2:
From Civil War to Cold War, 1861-1961


To order either or both of these CDs, go to:

American Song History Survey (ASHS)

National Carry A Tune Week

Sponsored by The American Tune Lovers Society




Every year this free annual online event takes place near the birthday of America's first major tune composer, William Billings (1746-1800)

For more information -- CLICK HERE





Tune Anniversaries

Every year on the birthday of Elder Joseph Brackett
(6 May),
there is a commemoration of his most famous Shaker song, "Simple Gifts" composed in 1848.
Read more at this link:

2014

naPopular song hits from 1914 l Cr

"Tenting Tonight on the Old Camp Ground" (1864)

2013

Stephen Foster's Civil War era hymns (1863)

"When Johnny Comes Marching Home" (1863)

"Call Me Irresponsible" (1963)
(words: Sammy Cahn/ music: James Van Heusen)

2012

150th anniversary of first publication of

100th anniversary of first publication of

2011


150th anniversary of publication of

"John Brown" (aka: John Brown's Body)

100th anniversary of Irving Berlin's first hit song

"Alexander's Ragtime Band" (1911)


50th anniversary at the Oscar-winning song,
"Moon River" (1961)

2010

70th anniversary of the milestone music event
with dozens of famous songwriters performing their own music
now available on a 4 CD box set titled:

Carousel of American Music:
The Fabled 24 September 1940 San Francisco Concerts

2009

For the Abraham Lincoln Bicentennial

"Lincoln and Liberty" -
Music of Abraham Lincoln's Era

250th anniversary of the first American song

"My Days Have Been So Wondrous Free" (1759)


2008

Play Ball!

The 100th anniversary of the most popular baseball song:

"Take Me Out To The Ball Game"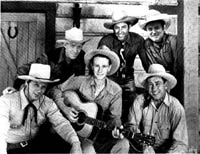 Are you a fan of old western songs?

Then take a look at this music tribute page
to B-western stars and songwriters,
sponsored by The Tune Lovers Society:

Multimedia Music Series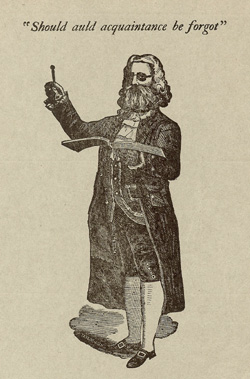 See the titles available in the
Preserving American Music Series (PAMS)

Recommended American Tune Recordings

Historical recordings available from this online site:

American Music Recordings Collection (AMRC)

America Song History Survey200, 1759-1959

Songs and Hymns of the Civil War Era

Recommended recordings of Patriotic Songs on CDs which may still be available at Amazon.com

America the Beautiful - Tanglewood Festival Chorus & Boston Pops Orchestra,
John Williams, conductor [Philips CD, 1996]

American Jubilee - May Festival Chorus & Cincinnati Pops Orchestra, Erich Kunzel, conductor [Telarc CD, 1988]

Battle Cry of Freedom - Robert Shaw Chorale [BMG/RCA Victor, 1991]

God Bless America - Mormon Tabernacle Choir [Sony Classics, 1992]

This is My Country - Marilyn Horne; Leontyne Price; Boston Pops Orchestra, Arthur Fiedler; Philadelphia Orchestra, Eugene Ormandy; St. Louis Orchestra, Leonard Slatkin; Robert Shaw Chorale [BMG/RCA Victor, 1993]

Here is a recommended series of popular songs by the original artists on RCA:

Nipper's Greatest Hits - The 1920s ("My Blue Heaven"/ "Charleston"/ "Black and Tan Fantasy"/"Rhapsody in Blue" & more)

Nipper's Greatest Hits - The 1930s, Vol. 1 ("Happy Days are Here Again"/"Stardust"/ "You're the Top"/ "Moonlight Serenade" & more)

Nipper's Greatest Hits - The 1940s, Vol. 1 ("Frenesi"/ "Chatanooga Choo Choo"/ "Blues in the Night"/ "Stormy Weather" & more)

Nipper's Greatest Hits - The 1950s, Vol. 1 ("Be My Love"/ Cherry Pink and Apple Blossom White"/ "Banana Boat (Day-O)"/ "Catch a Falling Star" & more)

How many tunes do you remember?

50 song hits from 1958

50 song hits from 1957
---
Help support the preservation mission of this web site

Order your books, CDs or DVDs from the

---