National Carry A Tune WeeK

October 7 - 13, 2007
This is a free web event sponsored each year by The Tune Lovers Society

2007 Survey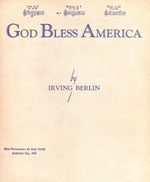 Complete survey list of tunes in alphabetical order:


"Adagio fro Strings" (1938)
"America" from West Side Story (1957)
"Autumn Leaves" (1955)
"Back in the Saddle Again" (1939)
"But Not For Me" (1930)
"Call of the Canyon" (1940)
"Carl Yastremski" (1967)
"A Cup of Rejoicing" (1846)
"The Dark Night is Ending" (1988)
"Distracted" (1980)
"Dream World" (1961)
"Earth's Only Paradise" from Ode to the Virginian Voyage (1957)
"The Empty Handed Traveller" from the opera, The Consul (1950)
"God Bless America" (1938)
"Hold Me Back (Frankie and Johnny)"(1992)
"Hold the Line" (1978)
"Home on the Range" (1873)
"How Glorious is Our Heavenly King (SHARON)" (1778)
"I Am What I Am" from La Cage aux Folles (1983)
"If We Were In Love" from the film YES, GIORGIO (1982)
"I'm Looking Over A Four Leaf Clover" (1927/ 1948)
"I'm So Excited" (1984)
"I Feel Pretty" from West Side Story (1957)
"The Impossible Dream" from Man of La Mancha (1965)
"I Say a Little Prayer" (1967)
"I Whistle a Happy Tune" from The King and I (1951)
"Jesus Loves Me" (1862)
"Joe Hill's Last Will" (1961)
"The Last Thing On My Mind" (1960s)
"Let The Rest of the World Go By" (1919)
"Living in the Country" (1956)
"The Look of Love" from CASINO ROYALE (1967)
"Look unto me" from the cantata, Song of Our Saviour (1881)
"Man of La Mancha" (1965)
"Moonlight in Vermont" (1944)
"More Love" (Shaker hymn, 1870)
"Our Town" (1991)
"Over the Rainbow" from THE WIZARD OF OZ (1939)
"Prelude" from PLYMOUTH ADVENTURE (1952)
"Rights of Conscience" (Shaker hymn, 1810)
"Stormy Weather" (1933)
"Sure on this shining night" (1941)
"Take Five" (1961)
"Take Me Home Country Roads" (1971)
"That Old Black Magic" from STAR SPANGLED RHYTHM (1942)
"(There'll Be) Peace in the Valley" (1937)
"These Foolish Things (Remind Me Of You)" (1936)
"The Tree of Life" (Shaker hymn, about 1810)
"You'd Be So Nice To Come Home To" from SOMETHING TO SHOUT ABOUT
---
This year another country was added to the Tune Week Survey.
Suzanne of the UK sent in her list.
Also this year tunes were sent in by Beate and Judith from Germany.
Thank you to them and all the others who participated in this year's survey.
This year's survey is dedicated to the memory of the magnificent voice
of Luciano Pavarotti (see VI. Film Music below).
The 2007 tunes sent in are listed here by category,
with year when they were written or published.
Tune Categories (click on links to read comments):
Patriotic Music = 2
Folk Music = 5
Religious Music = 6
Popular Music = 25
Classical Music = 6
Film Music (Songs and Themes) = 4
Tune Centuries:
18th century = 1
19th century = 7
20th century = 40
Total for 2007 = 48
---
"God Bless America" (music & lyrics by Irving Berlin, 1938) -- Comments: "Judy and I sang this song and clearly confirmed that we can't manage that." -- Rob
"Rights of Conscience" (Ballad by Issachar Bates, about 1810) -- Comments: "This Shaker ballad was written by Issachar Bates, who was best known for his dance song "Come Life, Shaker Life." Bates had served as a fifer lad in the American Revolution and so he knew a tune called "The President's March." When he wrote his ballad, he adapted this patriotic tune written for President George Washington and paid tribute to this hero of the American Revolution. The remaining verses tell about the Shaker beliefs and their foremost spiritual leader, Mother Ann Lee (1736-1784). I did an arrangement of this ballad and it is included on the CD, Come, Gentle Peace. -- Roger
---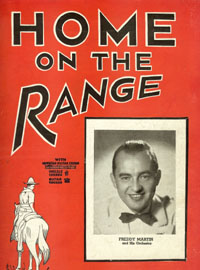 "Home on the Range" (words: Dr. Brewster M. Higley/ music: Daniel E. Kelley, 1873) -- Comments: "I have enjoyed this fine song of the West ever since I learned it in school. This year being the centennial of the birth of Gene Autry, I especially like his version of the song because he sings it with just the right amount of tenderness. Gene's version of the song is available on America in Song, Volume II. " -- Roger
"Joe Hill's Last Will" (words by Joe Hil/ music by Ethel Raim) -- Comments: "This actually is a will, written the night before labor activist and poet Joe Hill was executed by the state of Utah in 1915. It's a short poem, only three four-line stanzas, that begins: 'My will is easy to decide, For I have nothing to divide.' In 1961 Ethel Raim wrote a tune for it. The song has been performed and recorded by many folksingers, most famously by Joan Baez." -- Jim
"The Last Thing On My Mind" (music & lyrics by Tom Paxton) -- Comments: "Probably the biggest hit by this prolific singer-songwriter, Paxton's 'lesson too late for the learning' was written in the 1960s. After more than four decades he continues to write music, sing and play guitar in clubs, concerts and folk festivals throughout North America and beyond. Paxton has written hundred of songs, ranging from 'short shelf-life' topical ditties to folk music classics like this one." -- Jim
"Living in the Country" (music by Pete Seeger, about 1956) -- Comments: "This is instrumental music written for guitar. If anybody has tried writing lyrics I've never heard of them, and wouldn't want to. Seeger has said, 'I may never compose a better piece of guitar music.' The joyful tune has been played by many instrumentalists and bands, including bluegrass groups. It sounds wonderful on 12-string guitar." -- Jim
"Our Town" (Iris DeMent) -- Comments: "It's surprising that this reflective, bittersweet song was written by a young woman in her 20s. She recorded it by the time she was 30, her untrained voice skipping through the quirky
rhythms and poetic images. Sometimes a song happens to match your mood and
blend with your thoughts. I've played that 1991 recording by Iris DeMent
six or eight times in the past few days." -- Jim
---
"A cup of rejoicing" (Shaker hymn) -- Comments: "Composed by Sally Eades of South Union, Kentucky in 1846. A Shaker hymn from The gift to be simple. It's lively lilt and cheerful text make it a favorite of folk clubs, where a friend and I sing it a cappella in two part harmony (mine)." -- Suzanne
"How Glorious is our Heavenly King" (music by William Billings) -- Comments: "This marvelous tune carries the title of SHARON and was published in 1778. The tune was named after the Massachusetts town where Billings had relatives. I edited this tune and it was performed in a 1980 concert in that same town. The double quartet of singers was accompanied by four recorders and the combination turned out to be quite lovely. This performance is available on The Best of Billings CD." -- Roger
"Jesus Loves Me" (words by Anna B. Warner and David R. McGuire/ music by William B. Bradbury, 1862) -- Comments: "My daughter Meredith is rather musically talented. She makes up her own words, in the correct pitch and rhythm, to existing songs - both classical and kids' songs. I bet none of the songs she sings are less than five years old, though the singer is only three! The world has been singing 'Jesus Loves Me' and 'Twinkle, Twinkle Little Star' for more than five years, so we're good to go!" -- Jill
"More Love" (Shaker hymn, about 1870) -- Comments: "I first came across this in Edward Deming Andrews's book, The gift to be simple. At the time I was doing a Masters in Music. The words and music are enchanting, so much so that I made a very simple setting for use with my ladies choir and evening singing group. We also sang it at St. Giles Cripplegate [in London]." -- Suzanne
"The tree of life" (Shaker hymn, about 1812) -- Comments: "Another wonderful melody and attractive text. This one is in the pipeline to be used at St. Giles." -- Suzanne

"(There'll Be) Peace in the Valley" (music & lyrics by Thomas A. Dorsey, 1937) -- Comments: "This beautiful gospel song was sung by Elvis Presley with The Jordanaires in his last Ed Sullivan TV appearance in January of 1957. It was a favorite of his devoted mother and Elvis was determined to sing it for her. It was then released on a 45 EP album, which I bought when it first came out and I still have it. Listening to the four gospel songs on that EP album was a big comfort for me in my troubled youth days. I think Elvis did his best singing with gospel music." -- Roger
Note: Thomas Dorsey has been named to the Tunemaker Hall of Fame in 2007
---
"America" (lyrics by Stephen Sondheim/ music by Leonard Bernstein, West Side Story, 1957) -- Comments: "the most beautiful song for me from my favorite musical." -- Beate
"Autumn Leaves" (English lyrics by Johnny Mercer/ music by Joseph Kosma, 1955) -- Comments: "Remembering a visit to Vermont. Recorded by many artists but I chose Bing Crosby because - well, he's the Best. "-- Gail

"Back in the Saddle Again" (lyrics & music by Ray Whitley and Gene Autry) -- Comments: " Honoring Gene Autry on his centennial. Alas, I'm 'Back in the Saddle Again' as I'm about to start a short stint in the work force." -- Gail
"But Not For Me" (lyrics by Ira Gershwin/ music by George Gershwin, 1930) -- Comments: "Written for the show named Girl Crazy. Some jazz musicians give this tune a flippant treatment. I prefer it as a slow and rather sad ballad, a no-love song that is quite touching." -- Jim
"Call of the Canyon" (music & lyrics by Billy Hill, 1940) -- Comments: "This memorable western song was the last hit song written by the underappreciated songwriter Billy Hill, who died at age 42 in 1940. There are two recordings of this song that I like a lot, one by Gene Autry from one of most popular western films, Melody Ranch, and the other a later record from the 1950s by Jimmy Wakely. " -- Roger
Note: Billy Hill has been named to the Tunemaker Hall of Fame in 2007.he
"Carl Yastremski" (lyrics and music by Jess Cain, 1967) -- Comments: "The 1967 Boston Red Sox, known as 'The Cardiac Kids,' excited us all here in New England. Yaz had a magical year and inspired a Boston radio personality to write and sing a song in homage to the left fielder." -- Gail
"Distracted" (1980) -- Comments: "I like the record by Al Jarreau." -- Judith
"Dream World" (1961) -- Comments: "I wrote this early song while stationed in Germany. A demo recording was made by a trio we called Jake and The Potpourris. I used this song as the title of an eBook I compiled recently with my song lyrics, poems and stories. You can hear the song here." -- Roger
"Hold me back (Frankie and Johnny)"(1992) -- Comments: "Recorded by Michelle Shocked. From the campfires' Romanticism into the studio. A straight, full and simple voice, she wakes the desire to discover America. At that time advised by an irish friend." -- Judith
"Hold the line" (1978) -- Comments: "Sung by Toto." -- Beate
"I am what I am" (lyrics & music by Jerry Herman from La Cage aux Folles, 1983) -- Comments: "Sung by Gloria Gaynor" -- Beate
"'I'm looking over a four-leaf clover" (lyrics by Mort Dixon/ music by Harry Woods, 1927/1948) -- Comments: "Judy and I sang this song and clearly confirmed that like 'God Bless America' we can't manage this one either." -- Rob
[Note: The record by Art Mooney and His Orchestra was a tremendous hit in 1948, on "Your Hit Parade" for fourteen weeks and was twice in the No. 1 spot.]
"I'm so excited" (1984) -- Comments: "Sung by The Pointer Sisters." -- Beate
"I feel pretty" (lyrics by Stephen Sondheim/ music by Leonard Bernstein, 1957) -- Comments: "From West Side Story. A well loved examination piece! It encapsulates the butterfly emerging from the chrysalis feelings of the 16 year old Maria as she anticipates her first dance, and is easily identified with by adolescent singers. This stage number is great fun to teach." -- Suzanne
"The Impossible Dream" (lyrics by Joe Darion/ music by Mitch Leigh from Man of La Mancha, 1965) -- Comments: "Thisbecame the theme song of the 1967 Boston Red Sox season. Not World Champs but boy what a ride!" -- Gail
"I whistle a happy tune" (lyrics by Oscar Hammestein II/ music by Richard Rodgers, 1951) -- Comments: "From The King and I by Rodgers and Hammerstein. This song is on the standard singing examination syllabus in the UK, and is very popular with students, who have a lot of fun demonstrating the contrasting emotions of the text." -- Suzanne
"Let the Rest of the World Go By" (lyrics by J. Keirn Brennan/ music by Ernest R. Ball, 1919) -- Comments: "It sometimes sounds tempting to go off and live somewhere and watch the world go by." -- Gail h
"The Look of Love" (lyrics by Hal David/ music by Burt Bacharach, 1967) -- Comments. "I select this song from the film, Casino Royale, which was a favorite of my wife and me when we were first dating. The record we listened to most was by Claudine Longet, the former wife of Andy Williams, who had a soft, purring sexy voice." -- Roger
"Man of La Mancha" ((lyrics by Joe Darion/ music by Mitch Leigh, 1965) -- Comments: "This was sung by Linda Eder at the Boston Pops Independence Day celebration at the Hatch. It displays the majesty of the song with the trumpets starting by playing a fanfare and moves spiritedly throughout. Linda does well with this song that is usually sung by an older man. The lyrics speak of the adventures and good that he will perform on his way to glory. The strength in her performance and her voice reinforces the message. Although it is not as well known as it should be, it is one of the bright spots of this era." -- Eric from Massachusetts
"Moonlight in Vermont" (lyrics by Jack Blackburn/ music by Karl Suessdorf, 1944) -- Comments: "Remembering a recent visit to Vermont. The song recorded by many artists but I chose Mel Torme because I've always liked his singing. A friend once said she didn't like him because she didn't like the way he looked. Then she saw him in concert and was converted. " -- Gail from Massachusetts
"Stormy Weather" (lyrics by Ted Koehler/ music by Harold Arlen, 1933) -- Comments: "I remember seeing Lena Horne sing this song in the sepia-tone movie of the same name, while a storm raged around her. There are many and varied versions, including a surprise hit by Louis Prima and Keely Smith. The lovely melody is a favorite of instrumentalists." -- Jim
"Take Five" (lyrics by Iola Brubeck/ music by Paul Desmond) -- Comments: "I like the Al Jarreau record" -- Judith
"Take me home, country roads" (words & music: Bill Danoff, John Denver, Taffy Nivert, 1971) -- Comments: "The song even encourages me to sing along and I rarely do this." -- Beate
*"That Old Black Magic" (lyrics by Johnny Mercer/ music by Harold Arlen, 1942) -- Comments: "Arlen and Mercer both had many hits, alone or with a number of songwriting partners. Yet they have done their best when they worked together. There must be a couple hundred recorded versions of this standard." -- Jim
"These Foolish Things (Remind Me of You)" (lyrics by Holt Marvell/ music by Jack Strachley and Harvey Link, 1936) -- Comments: "The song can be performed at a brisk or slow tempo. Nat 'King' Cole recorded a lively but still romantic version with the Billy May Orchestra. Recently I heard a 1988 Frank Sinatra performance from Las Vegas, sung very slowly. Frank was near death but his voice was. Still, he gave strong emphasis to the words, which are quite good." -- Jim
---
"Adagio for Strings" (music by Samuel Barber, 1938) -- Comments: "Although many of Barber's compositions are played by orchestras today, none is more loved thatn this somber, contemplative piece. Its nine minutes of beauty always moves me. I would love to hear it in a concert hall someday. This poignant music was used to great effect in films as different as ELEPHANT MAN and PLATOON." -- Jim
[Note: Barber made an arrangement of this piece in 1967 for eight-part choir and retitled it: "Agnus Dei" (Lamb of God) Samuel Barber was named to the Tunemaker Hall of Fame in 2004. ]

"The Dark Night is Ending" (words: John Greenleaf Whittier/ music, 1988) -- Comments: "I set the Whittier poem to a Gregorian chant tune for a Christmas card I sent out in 1984. I revised it in 1988 and used the song in a play I wrote titled, The Musical Telephone. The play was based on a section of the famous utopian novel by Edward Bellamy, Looking Backward (1888). In the play the singer sang the song accompanied by the "musical telephone." The song is included on my CD (shown at left)." -- Roger
"The empty handed traveller" -- Comments: "From Gian Carlo Menotti's 1950 opera, The Consul. Text by the composer. An unusal song of farewell for opera, it's sung by the hero's mother after his infant son, her grandson, has just died. This marks the point where the child's grandmother also turns towards death." -- Suzanne
h
"Earth's Only Paradise" from Ode to Virginian Votage (music by Randall Thompson, 1957) -- Comments: "I have chosen this partly because of the 400th anniversary of Jamestown this year but also because I thought it was such a beautiful piece when performing it in a memorial tribute concert to him in the 1984. I think that Thompson was one of the most gifted choral composers of the 20th century. I had the good fortune to meet him many years ago when he was a guest at a festival of his music in Cleveland. As a young composer he encouraged me to keep going with my music and was kind enough to autograph one of his scores for The Gift Outright (1975) based on a text by Robert Frost. I'll never forget his kindness towards me." -- Roger
"Look unto me" (music by Edwin Arthur Jones, 1881) -- Comments: "Back in 1980, I happened to find a package wrapped in brown paper at a local historical society, and it turned to be the complete music collection of an unknown 19th century composer known locally as E.A.Jones. His major work was a magnificent cantata for soloists, chorus, organ and orchestra titled: Song of Our Saviour. As far as I could tell it was never performed during the lifteme of Jones. So, in 1992, this cantata received its world premiere performance in the same town where Jones lived. One of the highlights of this cantata is the brilliant "Look unto me" for a trio of soloists (soprano, alto and tenor) which you can hear at this link." -- Roger
"Sure on this shining night" -- Comments: "Text by James Agee/ Music by Samuel Barber, 1941. This has to be one of the loveliest 20th century art songs ever composed. The text is affirmative in its empasis on health and healing." --Suzanne
Note: Samuel Barber was named to the Tunemaker Hall of Fame in 2004h
---
VI. Film Music (Songs and Themes)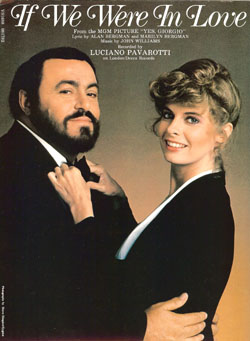 [In Memory of Luciano Pavarotti, 1935-2007]
"If We Were In Love" (lyrics by Alan & Marilyn Bergman/ music by John Williams, 1982) -- Comments: "In memory of the major opera star Luciano Pavarotti, I select this beautiful song from his only feature film, YES, GIORGIO. It was a bad film storywise but Luciano's singing was superb. This song demonstrates that John Williams can be an excellent songwriter as well as a great film composer. The lyrics by Alan & Marilyn Bergman are also first class. " -- Roger
"Over the Rainbow" from THE WIZARD OF OZ (lyrics by E.Y. Harburg/ music by Harold Arlen). -- Comments: "This song is used in examinations, and is often chosen by students who enjoy the soaring melody and wistfulness of the text." -- Suzanne
"Prelude" from PLYMOUTH ADVENTURE (music by Miklos Rozsa, 1952) -- Comments: "To celebrate the centennial of the birth of the one of the film music masters from the Golden Age, Miklos Rozsa (1907-1995), I have selected the Prelude of the film about the Pilgrims coming to America (not an entirely accurate portrayal but it's a Hollywood movie). The Prelude features a rousing rendition of Psalm 136 ("Confess Jehovah thankfully"). I used this marvelous film opening in several of my music lectures to point out how important music was to the first New England settlers. The entire film score is one of Rozsa's best from the 1950s, culminating in his magnificent Oscar-winning score for Ben-Hur in 1959." -- Roger
Miklos Rozsa was named to the Tunemaker Hall of Fame in 2005
"You'd Be So Nice To Come Home To" (music & lyrics by Cole Porter) -- Comments: "An old-time romantic favorite of many people that has been recorded by numerous singers. One popular version is by Frank Sinatra and the Nelson Riddle Orchestra on Capitol Records. I don't know when Porter wrote the song or whether it was for a show or stand-alone performance." -- Jim
[Note: It was written for a 1943 movie: SOMETHING TO SHOUT ABOUT and the song was nominated for an Oscar.]
---

When is the next Carry A Tune Week?
To read about Carry A Tune Week, go here
---
Total tunes selected for National Carry A Tune Week, 2001 - 2006 = 178
---
Sixth Annual Carry A Tune Week (2006)

List of tunes chosen (alphabetical order):

"Beat It" (1983)
"Be Glad Then, America" (1956)
"Come thou fount of every blessing" (about 1813)
"GIANT" (theme from the movie)(1956)
"Have Yourself A Merry Little Christmas" (1944)
"How Can I Keep From Singing?" (1864)
"Jeannie With The Light Brown Hair" (1854)
"Love Me Tender" (1956)
"My Way" (1969)
"Open Thy Lattice Love" (1844)
"Suspicious Minds" (1969)
"Turn Around" (1954)
"Welcome, Welcome" (1869)
"What a friend we have in Jesus" (1868)
"Wooden Heart" (1960)
"You Are My Sunshine" (1940)

---

Fifth Annual Carry A Tune Week (2005)

List of tunes chosen (alphabetical order):

"Amazing Grace" (folk hymn/ pop hit, 1970 & 1972)
"Are You Making Any Money?" (1933)
"At Seventeen" (1975)
"Back in the Saddle Again" (1940)
"The Blackest Crow" (traditional folk song)
"Blowin' in the Wind" (1963)
"Blue Skies" (1927)
"Boogie Blues" (1945)
"Buttons and Bows" (1948)
"Cakewalk" (1951)
"Call of the Canyon" (1940)
"Canaan's Land" (gospel song)
"Crucifixion" (1786)
"Days of Wine and Roses" (1961)
"The Devil and the Farmer's Wife" (traditional folk song)
"Do Not Forsake Me, Oh My Darlin'" (HIGH NOON, 1952)
"Don't Fence Me In" (1944)
"Empty Saddles" (1936)
"Flying Theme" from E.T. (1982)
"Frankie and Johnny" (1912)
"Have Yourself a Merry Little Christmas" (1944)
"The Humble Heart" (Shaker hymn, 1820)
"I Can't But Help But Wonder Where I'm Bound" (folk song)
"If I Had a Hammer" (1958)
"I'm Looking Over a Four-leaf Clover" (1927/1948)
"I Will Come Down in the Valley" (Shaker song,1889)
"Jingle, Jangle, Jingle" (1942)
"K-K-K-Katy" (1918)
"Keep Me From Blowing Away" (1970s)
"Land of Our Hearts" (1917)
"Last Night When We Were Young" (1936)
"Main Title from THE SUNDOWNERS (1960)
"Main Title from TO KILL A MOCKINGBIRD (1961)
"Manana" (1948)
"Mare Nostrum" from VICTORY AT SEA (1950s)
"Mexicali Rose" (1923)
"Mood Indigo" (1931)
"A Night Song" (1895)
"Orchids in the Moonlight" (1933)
"Prelude" from THE DAY THE EARTH STOOD STILL (1951)
"Prelude" from KING OF KINGS (1961)
"Satin Doll" (1958)
"She Sits at Her Loom" (1996)
"The Silver Horn" (1883)
"Something's Gotta Give" (1955)
"Spirit of Freedom" (1956)
"The Stars and Stripes Forever" (1896)
"Summertime" (1935)
"They Were You" (1960)
"They Who Seek the Throne of Grace" (1979)--for the victims of Hurricane Katrina
"This Land is Your Land" (1940/1956)
"The Times They Are A-Changin'" (1963)
"Tree of Life" (Shaker song, 1876)
"Tumbling Tumbleweeds" (1934)
"Variations on AMERICA" (1891/1963)
"When I Go To West Virginia" (1996)
"When I Fall in Love" (1952)
"You Were Meant For Me" (1929)

---

List of Tunes for Carry A Tune Week (2001-2004)

---

---

Tune Lists and CDs:

100 Essential Songs (1861-1961)

50 Essential Songs (1759 - 1859)

Centennial Tributes:

Gene Autry (western singer-songwriter)

Eddie Dean (western singer-songrwriter)

---

Help support this annual tune week survey.

Click on these links to order your music:

American Music Recordings Collection

---

If you wish to be on the mailing list for the annual Tune Week, send your full name, city or town (optional), and email address to:

---