"The Best Choice":
A Sampling of American Communal Hymns


by Roger L. Hall
PineTree Press, PTM 1048




As announced in
The Communal Studies Association Newsletter
Volume 42, Issue 1 (Winter 2016),

"The Best Choice" is a collection
of sample American communal hymns from the 19th century.

Also on the computer disc is a
Checklist of American Communal Hymnals from 1730 to 1855.

This collection was compiled and arranged by Roger L. Hall,
an ethnomusicologist and composer
who has researched communal music for many years.

The hymn collection was originally published in 2004,
and reprinted in 2006.
It has been out-of-print since that time.

Now the hymn collection is available
with bonus audio and video files on a DVD-ROM,
readable on computer and the sheet music can be printed.



These are the sheet music titles
included in the collection:




1. "The Best Choice" (1705 manuscript)
text: Johannes Kelpius,
ed. and arr. by Roger Hall
(The Contented of the God-loving Soul)

2. "Hymn for the Spinning Sisters" (1745)
Augustus Gottlieb Spangenburg
(General Economy - The Moravians)

3. "How Gracious Is The Lord" (1747)
Anna Thomen (in German and English)
(The Ephrata Cloister)

4. "Children of Friendship" (ca. 1820)
Frederick Rapp
(The Harmony Society)

5. "The Spirit of God" (ca. 1835)
words: William W. Phelps/tune: English
(United Order - Kirtland Latter Day Saints)
6. "Let Us Ye Brethren" (ca. 1840)
words: Gerhard Terstegen
tune: Solomon Ackerman, arr. Roger Hall
(in German)
(Zoar Separatists)
7. "O Youth Who Travel On So Far" (1846)
words: Eric Jansson
tune: V. Schumann, arr. Roger Hall
(Bishop Hill)
8. "Come And Welcome" (1846)
David Austin Buckingham
(The Shakers) - arr. Roger Hall
9. "Farewell, Dear Friends" (1849)
words: Adin Ballou (Hopedale Community)
tunes: NEW HINGHAM and OLD HUNDRED,
arr. Roger Hall
On this multimedia DVD-ROM
there are over 300 files including sheet music and audio examples,
plus several bonus features:

Audio - Roger Hall's research paper, "Heavenly Music,"
from the Communal Studies Association Conference
in Zoar, Ohio
including all the audio examples.

Video - concert highlights featuring Shaker hymns
performed by The Canterbury Singers, Kathryn Southworth, Director.

To purchase this multimedia DVD for computer,
make your payment for $19.95
including shipping cost (USA orders only),
by credit card payable to PineTree Productions,
through safe and secure PayPal.
Click on this button:
After you have placed your order,
please send your mailing address to this link:
Note: Orders outside of the USA
must pay an additional shipping charge.
See American Music Resource Editions No. 13
at the Store
Also available separately: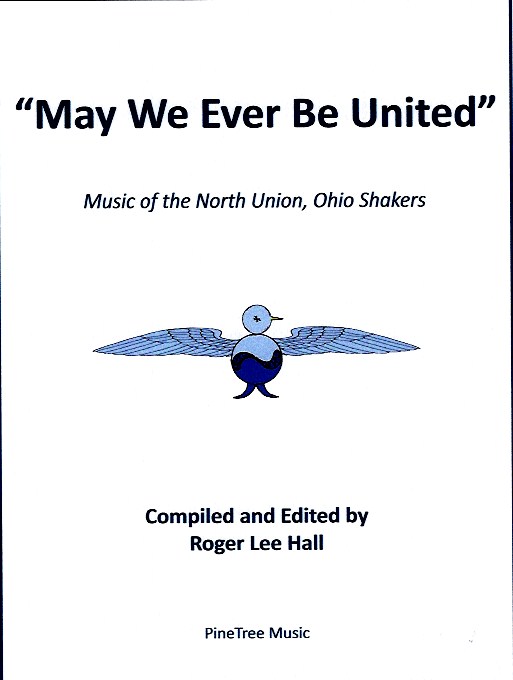 Roger Hall presented his research paper titled,
"Heavenly Music" -
Evolution of communal singing at Zoar, Kirtland, and North Union, Ohio

based partly on his research
which is available on a multimedia collection titled,
"May We Ever Be United" -- click here

He read his paper and sang several examples
at the Communal Studies Association Annual Conference,
held in Zoar, Ohio, on October 6, 2017.


A copy of Mr. Hall's paper from the Zoar conference
is available as a free downlaod for any researcher.

If you wish to also have all the audio examples with this CSA paper,
they are available with "The Best Choice" disc listed above.

To request a free download of the paper without the audio examples,
sent by email attachment, write to:
"Heavenly Music" research paper
Related DVD titles


"Give Good Gifts" - Shaker Music in the 20th Century

"The Humble Heart" - A Forty Year Survey of Shaker Music



"Simple Gifts": Great American Folk Song


CDs with Shaker music

"Blended Together" - Interviews with The Shakers


"Celestial Praises" - A Celebration of Shaker Spirituals


"Gentle Words" - A Shaker Music Sampler

Are you interested in scheduling a entertaining
music lecture or workshop
presented by Roger Hall
for your school, college, museum,
or other organization?

See the list of topics at

---

Help support the educational misssion of this website.

Order your music books, Shaker music broadsides,
CDs or DVDs at the

---