Rare field recordings now available with Shaker singers


The Shakers are America's oldest surviving religious communal sect, arriving in America from England in 1774 and their first community organized in 1787. For over two centuries they have composed thousands of songs, hymns and anthems.

In the 1970s and 1980s, Roger Lee Hall had a series of interviews with Shaker singers at the two remaining Shaker communities of Canterbury, New Hampshire and Sabbathday Lake, Maine and those interviews have been transcribed in this booklet:
The booklet was first published in 2011 but has gone out-of-print. It was written and edited by ethnomusicologist, Roger Lee Hall, one of the foremost authorities on Shaker music. He began his research while a graduate student at Binghamton University and completed his Master's Thesis there in 1972 titled: "The Shaker Letteral System: A Practical Approach to Music Notation." Since then he has continued to research and perform Shaker music for over 40 years. To read about his extensive Shaker music research and publications -- click here.

The original "Blended Together" booklet (PDF) is included on the new CD-ROM which also contains historical information about Mr. Hall's early research with Shaker music in Ohio and Kentucky and includes several Shaker manuscript illustrations.

Also, there are several bonus features on the CD-ROM:

Image gallery: pictures from Canterbury and Sabbathday Lake, and rare Shaker music manuscripts, including the "Blended Together" song.

Audio: field interviews with Shaker sisters at Canterbury and Sabbathday Lake between 1972 and 1987.

All of this material is "blended together" on the computer disc.

Audio album:

The disc title is named after a song by Elder Joseph Holden (1851-1919) at the Shaker community in Mt. Lebanon, New York.

The late Sister R. Mildred Barker said in an interview that this was a favorite song at the Sabbathday Lake Shaker Community and was sung there for many years.

These interviews with the Shakers took place at Canterbury, New Hampshire in 1972 and 1987; Cleveland, Ohio , Shaker Heights, Ohio in 1974; also at Sabbathday Lake, Maine in 1980:


1. Song: Blended together as one we stand - Mitzie Collins &
Roger Hall, 1992/ Sister Mildred Barker & Sister Frances Carr, 1974
2. Song: Mother says O rise be glad -- Eldress Bertha Lindsay, 1972
3. Roger Lee Hall interviews Eldress Bertha Lindsay in Canterbury, NH, 1972
4. The reed organ
5. The Shaker orchestra
6. Canterbury Shaker singers
7. Canterbury hymnal
8. Elder Henry Blinn
9. Shaker school
10. Song: I will go on my way -- Eldress Bertha Lindsay, 1972
11. Song: May I softly walk and O tarry not 'mid worldly strife, 1972
12. Sister Lillian Phelps tells about her hymn, O tarry not, 1972
13. Shaker dances and marches
14. Shaker "letteral" music notation
15. Sister Lillian tells about her musical training
16. Shaker gift songs
17. Skipping song
18. Shaker dances
19. Song: In the days when I shall comfort thee
20. Song: I want to be clean and holy all over
21. Just enough cross by the way and 'Tis the gift to be simple
22. TV Interview with Eldress Bertha Lindsay - Cleveland,1974
23. Song: O my sweet Shaker home
24. Song: O we're a band of sisters and happy are we
25. Song: Simple Gifts - Eldress Bertha's 90th birthday party, 1987
26. Song: Who will bow and bend like the willow - Shaker Heights
27. Song: I must live must have my being - Sister Mildred Barker
28. Roger Lee Hall interviews Sister Mildred at Sabbathday Lake, Maine, 1980
29. Hymn: The Shakers - Sister Mildred and Sister Frances,1980
30. Song: We will all go home with you - Shaker Heights, OH, 1974


All the above material is contained on a CD-ROM playable on your computer drive.

Since these in-person field interviews were recorded on audio tape in the 1970s and 1980s, the sound quality is not of today's digital standards. But these recordings are of significent historical value since they concern this unique singing tradition in America, which had its origins back in the 18th century.

This title is only available at this site and you can order it below...
To Order the CD-ROM

This informative computer disc (PTM 1052),
may be ordered here exclusively here
with a donation of $20 (including shipping in the USA)
or $28 for Overseas Air Mail orders,
payable by credit card to PineTree Productions,
through safe and secure PayPal.


Click on this button to

"Blended Together"

This attractive coloful music broadside
is available at the

Store

For information about other communal music see this collection:

"The Best Choice" - A Sampling of American Communal Hymns

Announcements:

Roger Lee Hall presented an illustrated talk at Canterbury Shaker Village in New Hampshire on
5 August 2017 at 1:00 p.m. His talk focused on Shaker women composers and singers and also
how Shaker music has evolved through several centuries. His program was titled:

"Give Good Gifts - The Simplicity of Shaker Music"

For more information about the music and dance event -- click here




A Sampling of Shaker Music
Many of the Shaker songs and hymns are available in performing editions and arrangements
by Roger Lee Hall, who has researched and performaed Shaker music for over 40 years.
His editions and arrangements are listed at these links:



Celestial Praises: A Celebration of Shaker Spirituals
(AMRC 0017)
Includes premiere recordings of original Shaker tunes and arrangements, including compositions
by Roger Lee Hall, such as: "Variations on a Shaker Marching Tune" for piano, and
"Two Shaker Prayer Hymns" (Op. 38) set to poems by Sister R. Mildred Barker.

You can order a download of the music arrangements by
Roger Lee Hall from this album at CD Baby:

click here

Gentle Words: A Shaker Music Sampler
(AMRC 0016)

Includes 24 premiere recordings including a newly discovered version of the best known Shaker song, "Simple Gifts," and music sung by Shaker sisters from taped field recordings. These are rare performances by Shaker sisters and were recorded live on site.




Read more and how to order at this link:
Shaker Singers
These two CD releases on Rounder Records, with 40 Shaker spirituals each, are the most extensive ones featuring the Shakers singing and speaking about their music...

Early Shaker Spirituals (Rounder Records)
A CD collection, originally released on LP in 1976, with 40 Shaker spirituals sung by The United Society of Shakers, Sabbathday Lake, Maine. Many of the spirituals are sung by Sister R. Mildred Barker, the foremost Shaker singer of her time. The spirituals include laboring songs, gift songs, prayer songs, a hymn and anthem and several interviews with Sister Mildred Barker. Extensive notes and texts for all the music are provided by Daniel W. Patterson.

These are a few of Shaker spirituals included on the CD set:

"The rolling deep" (Eldress Polly Lawrence)
"Come life, Shaker life" (Elder Issachar Bates)
"Down in the lowly vale" (Sister Polly Rupe)
"'Tis the gift to be simple" (Elder Joseph Brackett)
"I looked and lo a lamb" (anthem)
"With a new tongue" (Brother David A. Buckingham)
"O brighter than the morning star" (Ezra T. Leggett/Susanna Brady)
"O give me a little love" (Sister Sarah Fletcher)
You can order this CD directly from Amazon.com here:

Let Zion Move: Music of the Shakers (Rounder Records)
"The spiritual music of the Shakers. as might be expected, is notable for its simplicity and straightforward nature...anyone with an interest in American religious music will find the material both interesting and moving.
Highly recommended."

--Rick Anderson, All Music Guide


This 2 CD set from 1999 includes 40 Shaker spirituals sung by the Shakers from Canterbury, New Hampshire and Sabbathday Lake, Maine. It includes a history of Shaker music narrated by Sister R. Mildred Barker and Sister Lillian Phelps. There are also interviews with Sister R. Mildred Barker, Eldress Bertha Lindsay, and Sister Lillian Phelps.

The first interviews were done in 1960 by William Randle. Later interviews were conducted in 1972 and 1980 by Roger Hall, who has edited and written the detailed notes for this unique collection.

These are a few of Shaker spirituals included on the 2 CD set:

"Let Zion Move"
"Redeeming Love"
"Let My Name Be Recorded"
"I See The Light Before Me"
"Precious Gospel Kindred"
"Consulation" (all six titles by Eldress Mary Ann Gillespie)
"Abiding Care" (Dorothy Durgin)
"O Tarry Not" (words: Dorothea Cochran/ music: Lillian Phelps)
"Star of Purity" (words: Susanna Brady/ music: Ezra T. Leggett)
"Lead Me On To Greater Victory" (Elder Otis Sawyer)
"Prayer Universal" (Eldress Dorothy Durgin) -- solo by Charles Thompson

The CD set includes an attractive 72 page illustrated booklet with examples of Shaker music and the words to all 40 Shaker spirituals plus a bibliography and discography, compiled by ethnomusicologist, Roger Hall.
Read how these important recordings were made in 1960-61
and released commercially in 1999,
If still availabe, you can order the 2 CD set
directly at this link:
Let Zion Move: Music of the Shakers
Multimedia discs
with audio and video bonus features



"The Humble Heart"
A Forty Year Survey of Shaker Music

"Give Good Gifts"
Shaker music in the 20th century



"Simple Gifts"
Great American Folk Song


"May We Ever be United"
Music of the North Union, Ohio Shakers

"Millennial Praise"
Singing New Englanders:
From The Pilgrims to The Shakers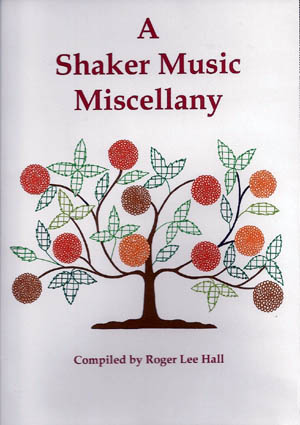 Several television programs,
including interviews with Sister R. Mildred Barker
and music and dance by the Shaker Village Work Camp singers
at Hancock Shaker Village in 1966, and a television story about
the Sabbathday Lake Shakers in 1986
with the singing of several Shaker songs
are included on this deluxe multi-media DVD.
Click on this link:

Related AMP Links

Aaron Copland Meets The Shakers

Joseph Brackett's Simple Gifts

Shaker Music Books and Articles

Shaker Music Preservation Series
---