Society for Earlier American Music
[SEAM]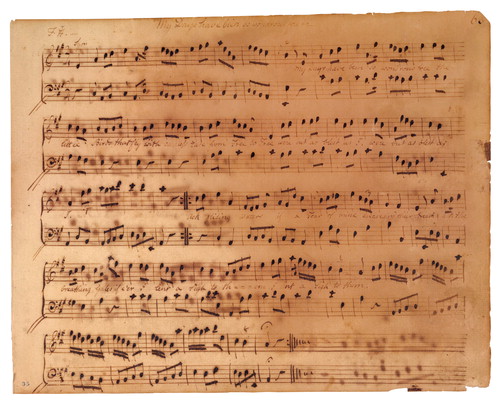 "My Days Have Been So Wondrous Free"
Francis Hopkinson, 1759


A Few Notes of Introduction
This is an Online interest group to help distribute information about earlier American music, especially vocal music. The emphasis is on music from the 18th to early 20th centuries.

It is not generally known that efforts were made early on to preserve American music.

For example, there were attempts made during the 19th century to preserve New England choral music from the 18th century by such organizations as the Billings and Holden Society but their efforts did not last very long.

A more successful attempt to preserve choral music from earlier America was made by the Stoughton Musical Society, which compiled this large music collection (or tunebook) --

The Stoughton Musical Society's Centennial Collection of Sacred Music (1878/reprint, 1980)

It is time to do more to help preserve and restore music from earlier America, before it is lost or forgotten completely.

If you are a musician, conductor, musicologist, teacher, student, historian, or listener interested in preserving music from America's past, then consider joining this interest group known as the

Society For Earlier American Music (or SEAM)


Just like the pieces of material in a patchwork quilt (thus the abbreviation "SEAM"), this online site seeks to preserve music from America's past by stitching together musical threads to make them available again in a tableau of sound.

It's a sad fact that a great deal of America's earlier classical and popular music is seldom performed or recorded today.

It is hoped that SEAM can make more people aware of worthwhile music from the past through information here, including publications and recordings.

The ultimate goal is preservation of this music through various activities.

This music needs to be heard again -- so the emphasis will be on making the music available in concerts and on recordings, such as the CDs and DVDs available at these links:

American Music Recordings Collection (AMRC)

American Music Research Editions (AMRE)

Hopefully in the future, enough funds will be generated to support concerts, a scholarly conference, or other events.

SEAM Needs You!

Here are ways you can participate as a member:


1. Creative Consultant - professional musicians who can advise about possible ways of distributing or performing vintage American music.

2. Performer Associate - musicians (students or amateurs) who can plan concerts or programs focusing on music from earlier America.

3. Educational Advisor - teachers who can advise about informational material and can help, if available, to plan a conference or workshop at a college, university, music school or other educational institution.

4. Promotion Manager - to seek financial aid and increased visibility for SEAM.

5. Interested Listener - to distribute information about SEAM CDs and other related material to your friends and colleagues.

If you would like to participate in any of these needed tasks, or would like to participate in some other way, then sign up now and send in your ideas.




Become A SEAM Member Today!

Membership is currently Free for the first year
but you must write in to join SEAM and leave messages or announcements.

Please consider making a donation.
For a donation of $25 or more to help support SEAM
you will receive a CD of vocal music, shipping included.






Your donation is by credit card
payable to PineTree Productions,
through safe and secure PayPal.

To join, make your payment
under "For Any Orders" at the

After you have made your donation,
to receive your CD,
send your mailing address to

Please keep in mind that this is an interest group so members are encouraged to participate in some way, especially to pass along news on the SEAM Bulletin Board or your news concerning earlier American music. You may also announce your article, book or other news, if appropriate.

Become a member now and help stop the neglect of earlier American music!

Let's make music from America's past come alive again!!



Roger Lee Hall
Director, Society For Earlier American Music (SEAM)

SEAM has co-produced many CDs with the American Music Recordings Collection (AMRC)


If you have any questions, write to:

Read the announcements on the

SEAM has co-produced CDs of historical American music in the

American Music Recordings Collection (AMRC)




Related Links




American Music Recordings Collection (AMRC)

American Music Recordings Series (AMRS)

Center for American Music Preservation (CAMP)

Essential American Recordings Survey (EARS)

Music From The Eras of George Washington and Abraham Lincoln

New England Music Archive (NEMA)

New England Music Institute (NEMI)

Shaker Music Preservation Series (SMPS)

Stoughton Music Heritage Series


Are you interested in an American music program for your organization, historical society, museum, or college? For a list of available titles by Roger Lee Hall, click on this link for
If you have a website and would like to be listed as an Associate Web Link,
send all pertinent information to: SEAM listing

Associate Links:

International Center for American Music

The International Center for American Music (ICAMUS) promotes knowledge and appreciation of American music and music making in the US. The Center maintains an inclusive orientation towards musical life in the United States, from its beginning to contemporary time. Significant attention is devoted to Early American Music. The Organization focuses on the study of musical sources, and on the unity and integration of research, teaching, performance and experimentation.




Society for American Music (Resources)

The mission of the Society for American Music is to stimulate the appreciation, performance, creation and study of American musics of all eras and in all their diversity, including the full range of activities and institutions associated with these musics throughout the world.

We invite all lovers of song to explore connections between poetry and music, between history and culture, through the work of American composers and poets. Song of America is a database resource where you can listen to songs, learn more about them, read their lyrics, find scores, and link to relevant Web sites.
---