14th Annual
National Carry A Tune Week

List of Tunes

This free online event is sponsored each year
by The Tune Lovers Society
Please help support National Carry A Tune Week.

Order any of these CDs:
"Celestial Praises"
A Celebration of Shaker Spirituals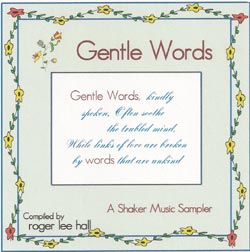 "Gentle Words"
A Shaker Music Sampler
"It's Magic"
A One Hundredth Birthday Celebration of Sammy Cahn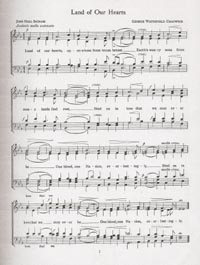 "Land of Our Hearts"
American War Songs:
From the American Revolution
to World War I

2014 Survey

Thank you to all those who participated in this year's survey.

The winner of this year's Free CD is - Dan.



14th Annual National Carry A Tune Week
(October 5-11, 2014)


The tunes below have links to other pages on this site.

Many of them also have links to YouTube.
I. Patriotic Music = 5 tunes

"Land Of Our Hearts" - words by John Hall Ingham/
music by George Whitefield Chadwick, 1918

This is an inspiring chorus composed during World War I and later included in A Book of Choruses for High Schools and Choral Societies (1923) -- Roger

The Liberty Bell March (Trio)- music by John Philip Sousa, 1893 - a less militant, more universal complement to Stars and Stripes Forever, this lovely melody is never more charming than when an old performance practice is invoked: let a chime ring through on the first beat of the third and seventh full bars, often cutting out the rest of the ensemble for the single note.-- Dan
YouTube

"Over There" - words and music by George M. Cohan, 1917 -- Brad
YouTube


"Song of the Marching Men" - words by Louise Ayres Garnett/
music by Henry Hadley, 1919

Another majestic chorus composed during the World War I Era, this one is the finale of a cantata titled, THE NEW EARTH (1919). -- Roger

"Stars and Stripes Forever March"- music by John Philip Sousa, 1896 -- Ben
YouTube

"Roll on Columbia" - words and music by Woodie Guthrie, 1941 -- Melodically captures the flow of the great river of the Northwest, from Guthrie's personal observation. -- Dan
YouTube

"The Times They Are A-Changin'" - words and music by Bob Dylan, 1963 -especially as sung by Peter, Paul and Mary. -- Ben
YouTube


"Turn, Turn, Turn (To Everything There Is A Season)" -
words from The Book of Ecclesiastes, music by Pete Seeger, 1962
YouTube

In memory of one of our greatest folksingers and activists -- Roger

"For months I carried this favorite poem from the Book of Ecclesiastes around in my pocket. Suddenly, in a burst of inspiration, I got the tune for it and put it on paper. All I added was the refrain and the last couplet. Written about 1962, as I remember." -- Pete Seeger

"We Shall Overcome" - adapted by Ziphinia Horton, Frank Hamilton, Guy Garawan, Pete Seeger, Tony Saletan, 1963 -- Brad
YouTube


III. Religious Music = 3

"Shall We Gather At The River (or At The River)" -
words and music by Robert Lowry, 1864
-- Ben
YouTube




"Dormant" - words by Thomas Flatman/ music by Jacob French, 1802

This early New England hymn was praised by musicologist, Irving Lowens, as "surprisingly subtle and delicate, traits rather infrequently found in our music of that period." I believe this a masterpiece of this kind of choral music from early New England. It was recorded in an inspiring rendition by a choir from the University of Maryland, available on this DVD: "Millennial Praise" - Singing New Englanders: From The Pilgrims to The Shakers. -- Roger

"Simple Gifts - words and melody by Elder Joseph Brackett, 1848

I first heard this Shaker dance song back in the 1960s sung by the husband and wife team of Gerry and George Armstrong, and then later in an lovely arrangement by Judy Collins. Over the years I have researched this Shaker dance song and have recently arranged it myself and it was performed by The Canterbury Singers on the CD, Celestial Praises. Also, I completed a book about it titled, "Simple Gifts": Great American Song. The song continues to grow in popularity and has been sung in arrangements by Aaron Copland and John Williams at three U.S. Presidetnial Innaugurations between 1985 and 2009. --Roger
YouTube

IV. Popular Music = 16

"Ain't Misbehavin'" words by Andy Razaf/music by Thomas "Fats" Waller and Harry Brooks, 1929 -
I like the atypical dreamy version of the song by Nat "King" Cole -- Jim
YouTube

"Alexander's Ragtime Band" -words and music by Irving Berlin, 1911 --Brad
YouTube (sung by Bessie Smith)


"All The Things You Are" - words by Oscar Hammerstyein II/ music by Jerome Kern) from the stage musical, VERY WARM FOR MAY, 1939
-- Ben/ Brad
YouTube (sung by Jo Stafford)

"Anything Goes" - words and music by Cole Porter, 1934 -
This song is always amusing despite its dated references.-- Jim
YouTube (sung by Cole Porter)

"Chances Are" - words by Al Stillman/ music by Robert Allen, 1957

I can't claim knowledge of the songwriters. I do claim that the Johnny Mathis recording (late 1950s) is a popular classic. Mathis probably recorded the song a few times and certainly performed it hundreds of times. I believe Johnny Mathis still gives concerts, at an age approaching Tony Bennett's. For both men it must be the head tones that allow them to keep on singing. -- Jim
You Tube (sung by Johnny Mathis)

"Dance With Me Henry" - words and music by Johnny Otis, Hank Ballard, and Etta James -- Gail
You Tube (sung by Georgia Gibbs)


"Do I Hear A Waltz? - words by Stephen Sondheim/
music by Richard Rodgers, 1965

The title song of a Broadway musical was performed by many, including a big hit by Eydie Gorme. The Rodgers tune is characteristically gorgeous. How did he do
that so often? -- Jim
YouTube (sung by Eydie Gorme)

"How Much Is That Doggie In The Window" - words and music by Bob Merrill, 1953 - hit record by Patti Page -- Gail
You Tube (sung by Patti Page)

"Oh, How I Hate To Get Up In The Morning" - words and music by Irving Berlin, 1918 -- Gail
You Tube (sung by Irving Berlin)


"The Soho Serenade" - words and music by Roger Lee Hall, 1964 - sung by Ethel Regan

I wrote this song over a few years in the early 1960s, after a visit to London and also hearing the Beatles while I was stationed in Germany. A recording was made of my song in 1965 with Ethel Regan singing it with a great deal of feeling. After 50 years, I'm pleased to see it finally available now.

"The Sound of Silence" - words and music by Paul Simon 1964 - I can't add to the volumes of ink that have been spilled over America's greatest existentialist song in the pop genre. -- Dan
YouTube (original version by Simon and Garfunkel)

"How Ya Gonna Keep 'Em Down On The Farm" (After They've Seen Paree)
- words by Sam M. Lewis and Joe Young/ music by Walter Donaldson, 1919
-- Brad
YouTube (sung by Nora Bayes)


"When You're Away" - words by Henry Blossom/ music by Victor Herbert from The Only Girl, 1914 - a perfect pairing with Harry Blossom's lyrics and so very simply and convincingly sung by Deanna Durbin in HIs Butler's Sister. -- Dan
YouTube

"Willow Weep For Me" - words and music by Ann Ronell, 1932)
YouTube (sung by Sarah Vaughan) -- Ben

"You Ask Me If I Love You" (voice, piano) - Harry T. Burleigh -
Although best known for his lovely and moving spirituals, Burleigh was reportedly most proud of his art songs. -- Dan
YouTube (sung by Frank Wood)

"You're Just in Love" - words and music by Irving Berlin from the musical,
CALL ME MADAM, 1951 -- Brad
YouTube (sung by Donald O'Connor and Ethel Merman)




V. Classical Music = 6


Charles Ives (1874-1954)
"Alleluia" - music by Randall Thompson, 1940 -- Brad
YouTube (performed by Octarium)


Cradle Song (violin and piano) Cecil Burleigh - sweet music from a bright, elegant soul. -- Dan

Fourth Symphony (Third movement - opening theme based on a hymn tune by Lowell Mason) - music by Charles Ives -- Ben
YouTube

From the Land Of Sky Blue Waters (1909) - music by Charles W. Cadman, Op. 45 No. 1, arr for violin and piano by Gaylord Yost

Despite over-exposure in almost every style imaginable, later addition of kitchy lyrics; from a hilarious, marginally politically-admittable sendup by Harpo Marx (Go West), through bravura performances by operatic tenors, sleek stylings by sweet band sopranos, and a mis-attributed beer commercial inspiration apparently by name alone - LOSBW retains the compelling, lyrical beauty of its melody and the integrity of its original Indianist intent. -- Dan
YouTube

A Prayer (violin and piano, 1919) - music by Henry Kimball Hadley - This poignant, uplifting miniature, written to commemorate the fallen dead of World War One, deserves to become an encore classic. -- Dan

"Variations on a Shaker Marching Tune" - music by Roger Lee Hall, 1971

Brilliantly performed by pianist, Kathryn Southworth on the CD, Celestial Praises, this set of variations on a Shaker tune was composed in a variety of compositional styles, from Classical to Twelve-Tone. The tune is from a Shaker music instruction book by Isaac N. Youngs in 1843.

VI. Film Music = 10

"As Time Goes By" -words and music by Herman Hupfeld, 1931
YouTube


One of the most fondly remembered movie songs and I've always enjoyed hearing it, especially as sung by Dooley Wilson, in CASABLANCA. I have another reason for liking it. It was composed by a songwriter who lived in Montclair, New Jersey, near where I grew up. Sadly, I never knew he lived so close to my hometown.-- Roger

"Baby Elephant Walk" from HATARI, 1962 - music by Henry Mancini -- Gail
YouTube


"Better Luck Next Time" words and music by Irving Berlin, 1948

I assume, it was in the EASTER PARADE movie. Everybody remembers Judy Garland singing this one--and she's terrific--but I've always liked Jo Stafford's version. As a singer, Stafford should be as celebrated today as Garland is.-- Jim
YouTube (sung by Judy Garland)




THE FALL OF THE ROMAN EMPIRE (Prelude, 1964) - music by Dimitri Tiomkin
YouTube

One of the last major film scores by a four-time Oscar-winning composer, who composed a monumental score for this epic film about the decline of the Roman Empire, with a stellar cast. Tiomkin's music at the opening of the film still thrills me and I believe it is one of his loveliest themes and similar to an opera aria by Donizetti.--Roger

"Let's Face the Music and Dance" - words and music by Irving Berlin, from
FOLLOW THE FLEET, 1936 --Ben


One of Berlin's best songs, a beauty. No matter whose performance I hear I always recall the beautiful Astaire-Rogers dance in FOLLOW THE FLEET, the movie for which I think this song was written.-- Jim

YouTube (sung by Fred Astaire and danced with Ginger Rodgers - one of their best routines)

RED RIVER (Main Theme, 1948)- music by Dimitri Tiomkin
- music to move creatures of every distinction! -- Dan
YouTube

"Three Coins in the Fountain" - words by Sammy Cahn/ music by Jule Styne, 1954


This Oscar-winning song from a mediocre film was a hugh hit for The Four Aces in 1954. But I think the Frank Sinatra recording is better, as well as the version on the CD, It's Magic, sung so sensitively by JoAnne Dickinson.-- Roger
YouTube (sung by Frank Sinatra)

Walking the Dog - music by George Gershwin from SHALL WE DANCE, 1937 -- Gail
YouTube (extended scene)

Beginner's Luck - words by Ira Gershwin/ music by George Gershwin from SHALL WE DANCE, 1937--Ben
YouTube (sung by Fred Astaire)


WHEN A MAN LOVES (Love Theme) - music by Henry Hadley, 1926 -
More forgotten music from a composer who loomed over the American music scene in his day. -- Dan

Total for 2014 = 44 tunes
Total tunes selected
from 2001 to 2014 = 430

Tune Lists:

Centennial Tributes:

Leroy Anderson (classical-crossover composer)

Gene Autry (western singer-songwriter)

Walter Schumann (film composer)

James (Jimmy) Stewart (actor, singer)

---




For more information about this annual online event,
click this link,




Click on these links to order music

American Music Recordings Collection

American Music Series CDs

American Music Preservation Store

See the composers listed on the

---

If you wish to be on the mailing list for the annual Tune Week, send your name and email address to:

---

Please help support the mission of

The Tune Lovers Society

Order your purchases from this Search Box to Amazon.com

---