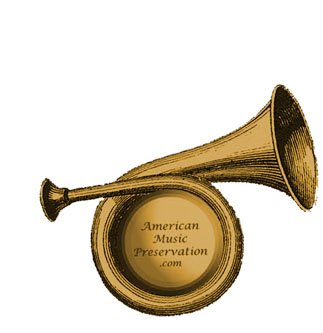 American Music Recordings Archive (AMRA)
To preserve American music from the past for the future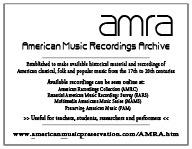 Your support is needed and essential to keep AMRA active.
Please help support this archive by ordering from
the CAMP Store or any of the AMRC CDs
AMRA is designed for those interested in American music used for classroom teaching, for research or personal listening enjoyment.


American Music Recordings Archive (AMRA) was established to distribute and help preserve music from America's past and to reach a broader public.

The material has been compiled from over 50 years in a private collection and consists of LP albums, audio tapes, CDs and DVDs.

It is available for musicians, teachers, historians, researchers and interested listeners for a modest preparation fee and shipping charge.

If you are searching for a recording by an American composer or songwriter, write to AMRA for possible availability and the cost -- click here

AMRA is affiliated with the New England Music Archive (NEMA).



Roger Lee Hall is the AMRA Director and also Album Producer for the American Music Recordings Collection (AMRC)

He is a respected and prolific music preservationist, composer, and film music critic. Also, he is Director of the Center for American Music Preservation (CAMP) -- click here

This CD was recorded live at a Centennial Birthday Concert honoring 4 time Oscar-winning lyricist, Sammy Cahn, and was funded by AMRA:


Read about this CD and
see several songs performed on YouTube --

These titles listed in the Bulletin of the Society for American Music:

Vol. XLIII, No. 2, Spring 2017

"For over four decades, Roger Lee Hall, currently Director of the Center for American Music Preservation, has been researching, performing, and recording the music from two of the oldest choral traditions in the United States. The Stoughton Musical Society was organized in 1786, and is now the oldest choral society. This society has a long history of performing American choral music. The United Society of Shakers is the oldest religious communal society, organized in 1787. During their history, the Shakers composed over 10,000 tunes, mainly during the eighteenth and nineteenth centuries.
Both traditions are featured on a new multimedia DVD-ROM.
"Give Us This Day"–Two Historic American Choral Traditions (PineTree Multimedia, 2017) contains over 500 files and 100 audio examples
including interviews with Shaker sisters and many music examples.

Information about this DVD-ROM is available here."

Vol. XLIII, No. 1, Winter 2017

The Bill Randle Chronicles DVD

Vol. XLII, No. 2, Spring 2016

Vol. XXXIX, No. 3, Fall 2013

Preserving American Music DVD Series

Vol. XXXIX, No. 2, Spring 2013

"The Star Spangled Banner" - Early Songs of Protest and Patriotism


Vol. XXXIX, No. 1, Winter 2013



Glory, Hallelujah: Songs and Hymns of the Civil War Era


Vol. XXXVII, No. 1, Winter 2011


Archive of American Music Recordings

American Music Recordings Collection (AMRC) CDs


Center for American Music Preservation (CAMP)
---

Please help support the mission of American Music Preservation.com

Order your music books, music broadsides, CDs and DVDs at the

---